Making Thin Sections by using

System

Abele

®

Used in mineralogy, petrology, petrography, palaeo-ontology, archaeology, dendrochronology, dentistry, glass fibre reinforced plastic, carbon fibre reinforced plastic, plastics, protection of ancient monuments, restoration, medicine, testing of building materials, pharmacy, biology, quality assurance and much more...
To give you a clear and brief explanation: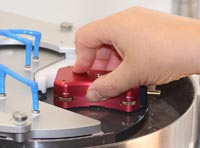 Prepare sample, grind it one-side on a diamond ring and then polish it.
Glue it onto a microscope slide.
The grinding mouse together with the aspirated specimen beneath is held on a rotating diamond ring or moved over a grinding surface. As soon as the requested thickness is reached, the contacts of the grinding mouse glide over the especially ultra-tough, high-tech sliding surface and therefore prevent the grinding to become thinner than requested or even to get lost.
If necessary this process can be repeated by using a finer grinding disc for getting a still thinner grinding! That's it!